Softball Outposts


College Recruiting


Info / Communication


Team Pages


Software


Rants and Raves


Rich Rosa's Roundup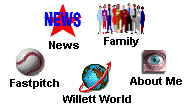 Disclaimers And Credits...
Best viewed with


Built on a real computer


If you don't like it here, comment.
All the credit goes to Christ
Make this your starting point for fastpitch softball on the internet. Visit often for the best softball reference site, late breaking news, links to other softball outposts, as well as personal ranting and raving.
---
| | |
| --- | --- |
| | OKAY!! I apologize for the INORDINATE amount of time passed since my last update or response to link requests. As a new season is ramping up, look for more timely updates. |
News Flash(s):

1999-2000 College Softball Committments

---

2000 ASA Rule Changes are published

---

Softball In Three Time Zones

Well last year saw a move from Region 4 to Region13. While still living in the Rockies with roots in Atlanta, this year brings me into the Region 15 scene and Gold softball. I don't know that it will impact what you find in these pages directly, but I'm meeting a whole new softball family, and enjoying the competition again.
Please sign my guestbook and let me know you were here. Or, drop me an e-mail. All comments are appreciated.
---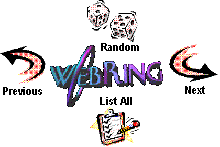 Softball Webring Member